Have you been left behind?
Millions of people have just disappeared. Why are you still here? What happens next?
We have written this page for all those who have missed the rapture. Jesus is giving you one last opportunity to make a decision to accept Him or reject Him. If you can find a Bible, then read it.
scriptures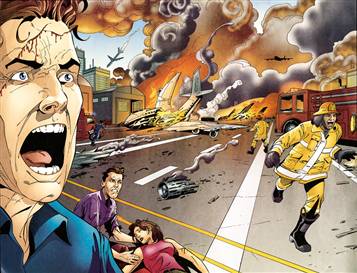 Immediately after the disappearances
you are probably seeing a whole lot of chaos.
So what happens next?
godtube
or
vimeo
†
Daniel
,
Matthew 24:32-44
,
Luke 21:28-36
(verse 28) And when these things begin to come to pass, then look up, and lift up your heads; for your redemption draweth nigh.

(verse 29) And he spake to them a parable; Behold the fig tree, and all the trees;

(verse 30) When they now shoot forth, ye see and know of your own selves that summer is now nigh at hand.

(verse 31) So likewise ye, when ye see these things come to pass, know ye that the kingdom of God is nigh at hand.

(verse 32) Verily I say unto you, This generation shall not pass away, till all be fulfilled.

(verse 33) Heaven and earth shall pass away: but my words shall not pass away.

(verse 34) And take heed to yourselves, lest at any time your hearts be overcharged with surfeiting, and drunkenness, and cares of this life, and [so] that day come upon you unawares.

(verse 35) For as a snare shall it come on all them that dwell on the face of the whole earth.

(verse 36) Watch ye therefore, and pray always, that ye may be accounted worthy to escape all these things that shall come to pass, and to stand before the Son of man.Luke 21 verses 28-36
,
Revelation
videos
† Are you ready to meet King Jesus?
† The Tribulation
† What Happens After the Rapture [godtube or vimeo]
† What to do if you're left behind [Segments one, two, three]
† What to do if you're left behind [In full]
† What to expect during the tribulation period [youtube or godtube]
pages
† Left Behind - Jesus Came. What's Next?
† Post-Rapture Survival Guide
† the rapture
† the Seven Year Peace Treaty
† the tribulation period
† What To Do If You're Left Behind